Packaging Standards
Have you ever received a box that looks like it went through hell before it arrived? Then you call the supplier and he blames it on the carrier. Well, we suspect sometimes that's true but, more times than not it's likely to be the packaging procedure that the supplier uses. We can tell the difference when we receive something that has been professionally packaged, and we want you to see that when you receive a box from WaferSeals.com.
WaferSeals.com realizes that for us not to have problems with product we must take care to prevent damage to the product while it's in transit. The objective is to eliminate the problem before it occurs, which saves us all a lot of time and frustration.
We want our tag line of "Trouble Free Mailing Tabs™" to reflect our entire ordering, shipping, and production process. We make great Tabs and they cost .00015 cents more, but their price is offset by many values, including our shipping procedures.
Never use an oversized box.
Use 250# test boxes
Use only nylon reinforced paper tape with aggressive adhesive.
Use core holders to align cores.
Use (15,30,40k Rolls) corrugated sheets to separate rolls for both handling and shipping.
Use bag and desiccant pouches to reduce moisture damage.
See photos for what you can expect to see when you open a box from WaferSeals.com.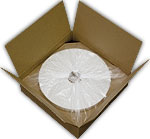 Tabs: 30,000 per roll
Core Holder and Corrugated Sheets
250# test box